Women leading in logistics at DACHSER South Africa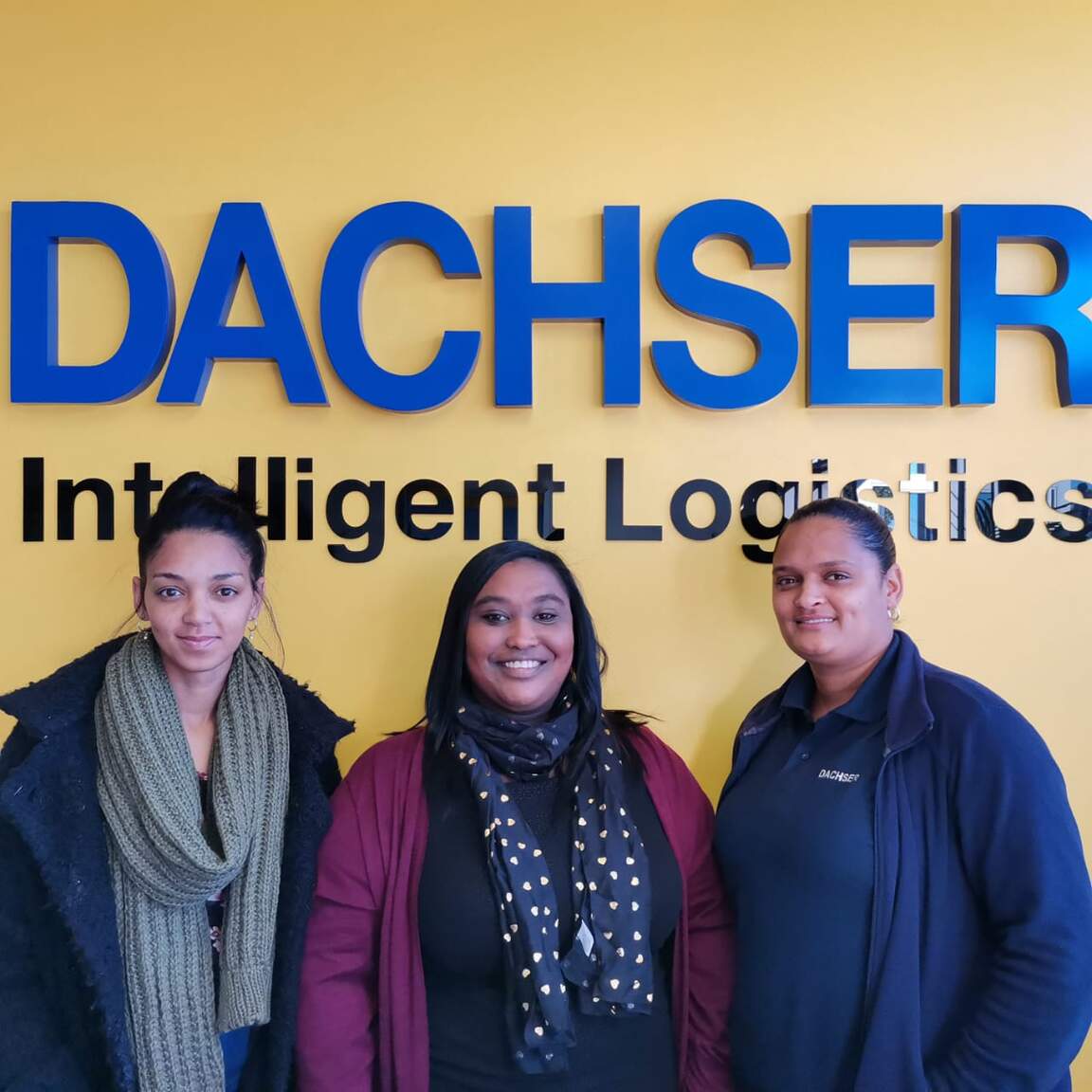 Three dynamic women in the Cape Town office of DACHSER South Africa, part of global logistics leader Dachser, are navigating their way through a successful career in the traditionally male-dominated field of logistics.
Portia Dryden, Adenisha Jeftha and Sasha-Lee Juter all joined the company through DACHSER's well-established learnership programme and progressed to become permanent employees. The women share several traits, including enthusiasm for their role in logistics, a capacity to build strong relationships, delight in keeping things running smoothly, and an enjoyment of the diverse challenges logistics brings.
Dryden, now an Air & Sea Import Controller, says that what excites her about her role knowing how essential logistics is in the global supply chain. "It puts a smile on my face when I walk into a clothing store where they are launching their new range for the season, and I know that I had a hand in making sure the imported garments reached the stores in time. This industry opens your world to see how many different sectors work, and in many cases, you gain a deep insight into what happens behind the scenes. The freight industry is multi-dimensional and always growing. With advances in technology, there is always something new to be learnt and that keeps me interested and excited."
Dryden says although great strides have been made in the last decade, working in a male-dominated field can be intimidating on different levels, from dealing with service providers to liaising with customers, as gender-based barriers have been there for a long time. "I learned that I had to walk the walk and forget about old, outdated expectations of how one should behave based on gender. Instead, I grew my confidence by learning the trade and gaining the experience. I focused on what I, as an individual, can bring to the table. This does not mean that the road to professional and personal success is challenge-free, but rather that I am both willing and resilient enough to face them."
The highlight of sea freight controller Adenisha Jeftha's career was handling her first big client independently after several months of permanent employment. She then became the key accounts controller on that account and her portfolio has extended to a range of clients across different industries. She thrives on the variety and meeting deadlines. "The constant change in my day excites me - this is not just a A-Z job. I am really motivated by making sure that shipments arrive on time."
Jeftha says her colleagues and clients inspire her daily. "The relationships we build with our clients and colleagues are a key reason why most staff want to stay at Dachser. We're more than just colleagues, we're a family."
Airfreight Exports Supervisor Sasha-Lee Juter agrees. "Each new day holds different challenges, different difficulties, but it's the relationships you build over the years that makes all of that worth it. Juter is determined to show that logistics no longer needs to be a male dominated industry. "Times have changed so much and I believe the industry has very quickly developed and is allowing more women to steer the ship. To keep attracting women to logistics, companies need to create a culture of equality where we can thrive."
"I would recommend this career to any individual that likes working under pressure and in a fast-paced environment," Jeftha concludes. "This is genuinely a great industry to work in."
About DACHSER:
A family-owned company headquartered in Kempten, Germany, DACHSER is a leading supplier of logistics services worldwide. DACHSER offers comprehensive transport logistics, warehousing, and customer-specific services in two business fields: DACHSER Air & Sea Logistics and DACHSER Road Logistics. The latter consists of two business lines: DACHSER European Logistics and DACHSER Food Logistics. Comprehensive contract-logistics services and industry-specific solutions round out the company's offerings. A seamless shipping network—both in Europe and overseas—and fully integrated IT systems ensure intelligent logistics solutions worldwide.
Thanks to some 30,800 employees at 376 locations all over the globe, DACHSER generated revenue of 7.1 billion euros in 2021. Country organisations represent DACHSER in 42 countries, including South Africa.